This article or section contains information that is out-of-date.

Please replace the old information with up to date information.
This may include rewriting sections to ensure they are clear and concise, and wikifying.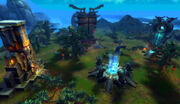 The Primal World is an area available for players that are Reawakening 1 and level 90+. In Primal World players can raise their Boundary levels through the Primal Quest Chain and farm a variety of skills. It is also home to a number of dungeons, two of which are used for farming high level equipment.
Story
[
]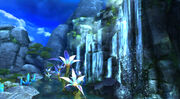 Primal World is the original world created by the gods. It was once destroyed during the Sea of Blood Disaster caused by the war of the gods. Upon realizing what they had done, the gods used their powers to create a new and better world that was later known as Perfect World. The gods took their favorite people in Perfect World, but many were left behind and the original world was abandoned.
The forsaken world became known as the Primal World. In the current times, Lord Tyrant has taken over the Primal World, exploiting tribes, stealing their resources and corrupting its inhabitants. In the meantime, the vicious race known as the Shoka are lurking in the waters near Kirin Town. Players can help Light Emperor Alexander unite the tribes of Primal World and fight against Lord Tyrant, the Luneskans and the Shoka.
Map
[
]
Accessing the Primal World
[
]
Players can enter the Primal World at Reawakening 1 Level 90 and above.
Players can exit the Primal World by talking to Empress Althea in Kirin Town or any of the Teleport Master NPCs and selecting the quest "Back to Perfect World". Players can enter the Primal World by talking to the Messenger of Time at the center of Archosaur or by talking to Messenger of Time Woyo, who is found in every major city.
Daily Quests
[
]
Primal World has a lot of daily quests that reward players with Vitae to level up their Boundary levels, which are a requirement for entering specific dungeons, accessing other areas, learning new class skills, passive skills and increasing the overall power of the character. Primal World has two modes: regular mode and story mode.
Normal Mode
[
]
Normal mode is the regular map of Primal World. Here players can do the following quests:
Story Mode
[
]
Story mode is a copy of Primal World, but has a different set of NPCs and quests. To enter or exit this mode players can speak to one of these NPCs:
Resistance Force Spy near Sky Owl Stronghold (348, 469)
Resistance Force Spy (exit only) near Kirin Town (368, 467)
Green Wood Heart Guardian north of Dragon Tower (324, 542)
Mu Hoffen at Dragon Tower (325, 528)
Raccoon Guard at Tree Raccoon Village (363, 560)
Queen Liu Soo at Mirrorflower Kingdom (336, 568)
Dragon Pond (entry only) northwest of Autumn Village (383, 626)
Melancholy Soldier (exit only) northwest of Autumn Village (383, 626)
Commander Feng at Might's Outpost (405, 586)
Inkstone Elder in Inkstone Village - enter at (410, 621), exit at (414, 624)
Executor (entry only) at Ice Goblin Camp (443, 559)
Lieutenant Becket (exit only) at Ice Goblin Camp (445, 562)
Riptide Lord Hydro in Tideswell (447, 487 ↑22)
In story mode players can do the following quests:
Dungeons
[
]
See Also
[
]
Regions
Perfect World
Realms