The Arigora Colosseum, also called the PvP Arena or simply the Arena, is a cross-server PvP event introduced in the PWI Neverfall expansion. Players that are level 100 can access the Arigora Colosseum by talking to the NPC Arigora Agent Khroatis. He can be found at West Archosaur, South Archosaur or in Neverfall. The PvP format of the Arigora Colosseum is 3v3 or 6v6. It can be done with random squads or fixed squads. The Arigora Colosseum is available every day between 00:00 and 12:00 CET.
Colosseum Squads
[
]
Players that have reached level 100 can form permanent squads at the Arigora Agent Khroatis. Talk to the NPC and choose the option to create a squad. A new window will pop up asking you to choose the format (3v3 or 6v6) and to pick a name for the squad. A one time fee must be paid for the squad formation, after which the squad becomes permanent. The player who creates the squad becomes the leader can invite or kick players from it. You can find your squad's menu by pressing ⎇ Alt+J in-game.
Squad fees are the following:
30,000,000 Silver Coins for a 3v3 squad
50,000,000 Silver Coins for a 6v6 squad
A 3v3 squad can have up to five squad members and no duplicate classes are allowed. A 6v6 squad can have up to 10 squad members and can only have a maximum of two players of the same class. Players can join both a 3v3 and a 6v6 squad but will only receive the rewards for one; whichever has the highest score.
If a player who has participated in battles leaves the squad, they cannot join another until the Colosseum resets on Wednesday. The player's squad score will be cleared but their personal score will be kept.
Random Squads
[
]
Players can choose to enter Personal Matchmaking and participate with random squads. This allows players to team up with players from other servers. However, random squads do not get any rewards and do not count towards the weekly quest. Random squads are for pure entertainment.
Matchmaking
[
]
If players wish to participate in battles they need to talk to the Arigora Agent Khroatis and choose the Matchmaking option. A new window will pop up from which the players can choose if they want to enter Squad Matchmaking or Personal Matchmaking. Matchmaking lasts a maximum of 10 minutes and cannot be canceled.
Squad Matchmaking
[
]
To enter Squad Matchmaking, the squad members need to form teams of 3v3 or 6v6 and have the leader initiate the matchmaking at the Arigora Agent Khroatis NPC. When an opponent has been found, a new window will appear asking each member to accept within 75 seconds. You cannot fight the same squad in a row. It is unknown what are the requirements to be matched with the same squad again.
Personal Matchmaking
[
]
To enter Personal Matchmaking, talk to the Arigora Agent Khroatis NPC and choose the Personal Matchmaking option in the window that appears. Your squad mates and opponents will be other players that have entered Personal Matchmaking. When a squad has been found, a new window will appear asking you to accept within 75 seconds.
Colosseum Battle Rules
[
]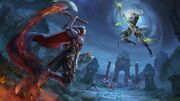 After a successful match, players have 90 seconds of preparation time. During this time, using Colosseum Special Elixir will not cause any other Elixir to go into cooldown but using normal Elixirs will do. Players are not allowed to leave the preparation area during preparation time.
In the Colosseum, flyers, mounts and all kinds of Elixir are allowed. Genie's energy recover rate is reduced to 1/4. When a player is killed in the battle, they will stay in the battlefield as a ghost. They cannot attack others or receive any attacks. Any player who is disconnected before or during the battle will be counted as killed. Each battle can last a maximum of ten minutes.
Win Conditions
[
]
If one squad can eliminate the opponent squad, they win the battle.
If it's a battle time out, the squad with the most surviving players wins.
If both squads has the same number of surviving players, the squad that dealt the most damage will win.
If both squads deals no damage, then they all lose.
Score and Rewards
[
]
Placement Match
[
]
The first ten battles for a new squad are Placement Matches. The results of the Placement Matches are corresponding to the Squad Score.
0 - 1 Wins = 1350
2 - 3 Wins = 1425
4 - 6 Wins = 1500
7 - 8 Wins = 1575
9 - 10 Wins = 1650
Personal Placement Match
[
]
The first ten battles for a player who has newly joined a squad are Placement Matches. They have to finish ten Placement Matches before they can use Arigora Coins to trade for rewards at the Arigora Agent Khroatis.
Score
[
]
Your Personal Score determines your group. The higher your Personal Score is, the better the reward. The grouping standards are the following:
Darkmetal Warrior 1 - 1399
Finesteel Fighter 1400 - 1599
Bronze Warrior 1600 - 1799
Mithril Knight 1800 - 1999
Goldlight Champion >2000
Platinum Warlord >2200 (and be in the top 50)
Score Rewards
[
]
Weekly rewards are calculated based on the player's Squad Score. Players who are qualified for the reward can claim it after 08:00 on Wednesday by opening their squad window (Alt + J). If you cannot redeem the rewards try re-logging and make sure you are in a Safe Zone. Unclaimed rewards will be cleared and lost when rewards are concluded.
Reward Conditions
[
]
Participate in at least ten battles in the Colosseum.
The number of battles you have participated in is more than 30% of the total battles fought by your squad.
If the difference between your Personal Score and Squad Score is higher than 200, rewards will be calculated based on your Personal Score.
Weekly Quest
[
]
Players can talk to Sixtus in Neverfall to take the weekly quest "Colosseum Battle (Weekly)". They will receive Arigora Coins for participating in 15 squad battles. Personal Matchmaking battles do not count. The weekly resets every Sunday.
Arigora Coins
[
]
Arigora Coins are the reward of the Arigora Colosseum. They can be exchanged for a number of goods including titles, Special Colosseum Elixir, War Avatar A packs and more. Arigora Coins are also the primary material needed to farm G17 capes and rings.
Arigora Colosseum Seasons
[
]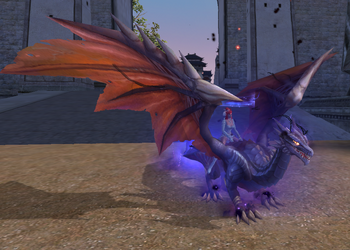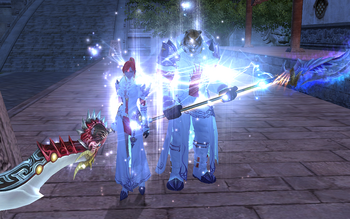 Arigora Colosseum previously had seasons during which teams competed against each other to increase their score as much as possible. During this time players could obtain special titles. At the end of each season, the top 100 players from 3v3 and the top 100 players from 6v6 would receive special rewards including titles, Arigora Coins, exclusive fashion and exclusive mounts.
Currently, the Arigora Colosseum seasons are inactive. It is not known whether there will be more seasons in the future.
1st Place
Special Title: Heavenly Champion
Arigora Coin x 6000
Sovereign's Seal x50
Crown of Madness
War Avatar Chest: A x10
War Avatar Pack S x15
Ancient Gift x20
Ultimate Soulgem Pack x3
Venerated Dragon
Snowstorm Set
2nd - 32nd Places
Special Title: Heavenly Champion
Arigora Coin x 6000
Sovereign's Seal x50
War Avatar Chest: A x5
War Avatar Pack S x7
Ancient Gift x5
Soulgem Pack Coupon x1
Venerated Dragon
Snowstorm Set
33rd - 64th Places
Special Title: Exalted Elite
Arigora Coin x4000
Sovereign's Seal x30
War Avatar Chest: A x3
War Avatar Pack S x5
Venerated Dragon
Snowstorm Set
65th - 100th Places
Special Title: Valiant Warrior
Arigora Coin x2000
Sovereign's Seal x20
War Avatar Pack S x5
Venerated Dragon
Snowstorm Set